I've been meaning to do this for a while.. It's been almost a year since the thoroughly awesome
Mary Kaye
sent me a copy of her album "Spin Your Web" to review. Sorry about the delay Mary.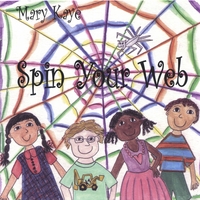 The album blew me away right off the bat, with it's great lyrics and wide range of musical styles. The opening, and title, (
Spin Your Web
) track is a great world beat groover. My personal favorite is the proto-punk "
Let's Get Dressed
".
This album is a pleaser for the whole family. The Curious Boy was very young (~6 months) when we got the album, and so it was hard to judge how much he liked it. As he got a bit older, he started to like it more and more. It is in constant rotation in our house and on car trips now.
My only complaint about the record is on the production side. I find that kids are drawn to music with strong, easily heard vocal melodies. On this record the vocals are a bit too far back in the mix. I have this problem with a lot of kindie-pop music. It probably comes from the indie/alt-rock influence on the artists, and it is a sound that I love. I think kids would better appreciate the music if the vocals were more up front.
That being said, I love this record. I think it is an essential edition to any family's collection. Kids can grow for a long time with "Spin Your Web". The music and lyrics are simple enough on the surface for a toddler, but have the right amount of complexity to keep older kids and adults listening again and again.
YouTube user
ralpheadsuz
used Mary's beautiful track "Child" in their astonishing entry into the
YouTube Autism Challenge
. The video is a peek into the life of their six-year old son.
And now the contest part: Comment on this post with the definition of PDD-NOS. Everyone who post a correct answer between now and
Friday
Monday at midnight (EST) will be entered to win a copy "Spin Your Web". The winner will be chosen at random.
Technorati Tags:
mary kaye
,
philosopherdad